Increasing Consciousness eCourse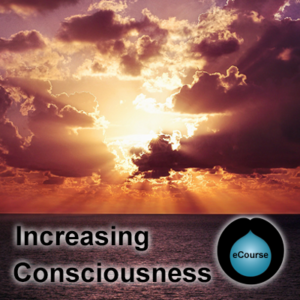 This course should not be taken on lightly. Although its a short course we will still press more deeply into the nature of mind and perception than most people are used to. Our goal here is not to pursue an intellectual consideration, attempting merely to acquire some more "knowledge," but in each lesson what we're after is for you to have a genuine experience of something new involving your own conscious awareness.
Increasing consciousness is becoming more aware of yourself and your life than you currently are. It is having a new insight, recognizing something in reality you haven't recognized thus far. It is becoming more sensitive to your internal and external environments. It is making new distinctions in your experience that allow you to see reality in a more sophisticated way.
Increasing consciousness is always based on the truth. Otherwise it isn't becoming more conscious, it is just fantasizing, or making something up, or merely believing that a thing is true. Throughout this course your job is to become more conscious of whatever we are looking into — and we will be looking into you, and your experience of others and life. The truth and consciousness are inseparable, so best to start with being as honest with yourself as you can.
You will be asked to challenge and question your beliefs, your motivations, your emotions, your very way of being. We will look into your ability to "listen," and develop a deeper level of understanding and communication. We'll tackle the basic nature of concept and experience, past and future, honesty and contemplation. We'll exam how mind creates the experience of your "self," which will open up the possibility of changing this experience – the one you live with every day. We will press out the edges of the envelope of your consciousness of your self, others, and life. All in six weeks!
This short course is not meant to be complete or comprehensive. It is a short study in aspects of self, mind, and perception for the purpose of assisting you in making progress increasing your level of consciousness of the nature of yourself and your life.
Reading should include:
You may also benefit from reading:
This material has a way of shifting and resonating within your experience so that you can virtually never approach it from the same perspective twice. That's part of what makes it so exciting.
Cost: $99.50
Duration: 6 Weeks